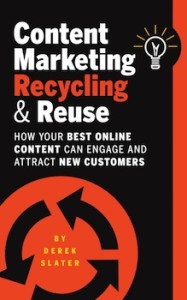 Do you own or manage a website, or are you responsible for growing online sales, leads, or engagement? Content Marketing: Recycling & Reuse will show you how to recycle existing content to attract and engage new customers. It's a crash course that will deliver great value to online publishing professionals, marketers, and others who use the Web to attract new customers.
Content marketing recycling is not just a matter of republishing old articles, case studies, and blog posts. Author Derek Slater will show how clever repackaging and new combinations of old favorites can attract new customers and build engagement. Besides describing a strategic approach to content recycling and reuse, Slater includes dozens of examples from well-known websites and niche industries.
This short guide (about 3,000 words long) is for content marketers, bloggers, journalists, e-commerce managers, inbound marketers, social media managers, and SEO specialists. For just 99 cents, you'll learn how existing content can bring thousands of new readers — and potential customers — to your website. Buy it today for just 99 cents!
Available formats include a Kindle version, the iBooks version for the iPad and iPad mini, a Google Play version that can be read on the Samsung Galaxy Tab, Nexus 7, and other Android tablets, and a PDF that can be printed out or read on practically any computer screen. All sales are processed using secure credit card forms. Press one of the buttons below to make your purchase: